Top 10 Best Black Television Dads
Happy Father's Day. Dads, grandfathers, uncles, brothers, and father figures alike play an important role in who we grow up to be. They have the possibility to shape our character, our behavior, and our ambition. They are essential to who we are as human beings. Black dads play a super important role in our lives as well. Time and time again, we are reminded of the stereotype that black dads are not in their children's lives and that they are half-ass father's. From my own personal experience, I am telling you, that is not true. Black dads not only show up in reality, but they show up in fiction as well. In no particular order, here is a list of television's top 10 black fathers.
10. Uncle Phil - The Fresh Prince of Bel-Air
Nobody compares to the OG, Uncle Phil. Raising kids of your own and taken in another mouth to feed, and another heart to love is not easy. But if you're Uncle Phil, you're going to make it happen. Giphy


9. Oscar Proud - Proud Family
Oscar was a horrible snack maker, and a super overprotective dad, but at the end of the day, he did love Penny, BeBe, and CeCe, even if he was bing extra with his approach. Giphy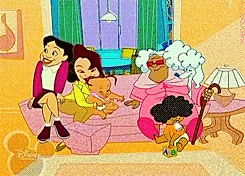 8. Ray Campbell - Sister, Sister 
Ray was not Tamera's biological father, but he treated her as such. Tamera was dorky, goofy, and immature at times. Rather than trying to change her, Ray accepted Tamera for who she was, and even loved Tia just the same. Giphy


7. Michael Kyle, Sr. - My Wife and Kids
We loved being able to see Damon Wayans as a family man. We also loved his unusual way of parenting as Michael Kyle, Sr. in My Wife and Kids to Junior, Claire, and Kady. He was zanny but fair. Giphy


6. Julius - Everybody Hates Chris
If this was a list of the world's cheapest dad's, Julius would definitely be number 1, but alas, it isn't. Not only did he work night and day to make sure his family was taken care of, but there were also times when he went without so that his family could have. He is the true embodiment of a hardworking father who puts his family first. Giphy


5. Dwayne Wayne - A Different World
Unfortunately, we were never able to see Dwayne Wayne be a father on screen, but we are able to tell from the way he reacted to Whitley being pregnant, that he is in the ranks of being the world's greatest dad. How are we able to forget how happy he was when he found at Whitley was pregnant. If we were still able to see how Dwayne and Whitley are living now, we'd be able to guess that they are back in Virginia, on the board of trustees at Hillman, and proud parents of five kids, two sons, DJ & Tyrell, and three daughters, Jordan, Brooklyn, & Parker. Giphy


4. Joe Carmichael - The Carmichael Show
Joe tells it like it is. I think he has realized that he is at an age where he is going to say whatever he is going to say, and not care what you think about it. You also have to appreciate the way he loves his sons and accepts them for who they are even while making fun of them. Giphy
3. Andre Johnson, Sr. - Blackish
Andre Johnson is black as hell and that's why he is number two on his list. I love how he is brutally honest with his children, especially Junior. The blackest thing Andre mentioned doing for his children included bronzing their baby Jordan's and naming their new son, DeVante. Blackish never fails to make me laugh, and Andre is a big reason for that. Giphy


2. Eddie Sutton - Lincoln Heights
How is one such a loving father and a protector of their home and community? If you are Eddie Sutton, it happens all in a days work. He is a father of four, Cassie, Nathaniel, Lizzie, and Tay. You will honest to God fall in love and shed a few thug tears every time you see Eddie go to the end of the Earth for his family. 


1. Flex Washington - One on One
Flex Washington is the #1 black television father in my eyes because this was the first time we were truly able to see a single black father raising a daughter essentially on his own. He had such a beautiful relationship with Breanna in which they had fun together, but Flex was always able to parent her and lead her in the right direction. They were both  young and trying to figure one another out, but they were able to get it done. Flex was able to get Breanna through her high school graduation, as well as get her to her dream college in California. 
Honorable Mentions:
Kyle & Overton - Living Single
Kyle became a father to Max's newly fertilized child at the end of the series and Synclaire and Overton were married, which meant that inevitably, babies were coming. Even though they were waiting on the birth of their offspring, that were amazing brothers and protectors to Khadijah, Max, Regine, and Synclaire. They looked after them, were shoulders to cry on, and an excellent handyman to them anytime they needed fixin'.
original post - 6.18.17