an Essay: A Different World
Have you ever wondered what life is like at a historically black college or university? Before 1987, if you were not a student or an alumnus of a historically black college or university, or HBCU as they are affectionately called, you might not know about the livelihood of HBCU campuses. As of 2017, there are over 104 historically black colleges and universities. Most of them are located in the southern region of the United States, such as the fictional Hillman College located in Virginia on the television show, A Different World. A Different World is a topical television show, with a strong representational cast for the black community, that became a popular culture statement. A Different World premiered on NBC on September 24, 1987 as a spinoff of the popular NBC show, The Cosby Show. It began by documenting the life of the Huxtable's second oldest daughter, Denise as she began attending her parent's alma mater, Hillman College. Season one began with a rocky start, as critics said A Different World did not accurately depict life at a historically black college. Lisa Bonet, the actress who played Denise Huxtable ended up getting pregnant at the end of the first season which prompted her to leave the show. Debbie Allen, a Howard University alum, and sister of Phylicia Rashad, Claire Huxtable, on The Cosby Show, took over the show as the executive producer for season two onward and with extensive knowledge, began taking the show to new heights. It was because of her and her true HBCU experience that she had the correct undertaking for the job as she was not afraid to discuss important topics such as HIV/AIDS, date rape, teen pregnancy, domestic violence, enlisting into the army, colorism, and racial discrimination.
In the late 80's and early 90's, topical television was becoming a wave of the future. A Different World ushered in the idea that it was important and possible to have funny episodes that brought upon a message. On November 7, 1991, NBA superstar Magic Johnson held a press conference in which he revealed that he had been diagnosed with HIV, and subsequently, on A Different World, they premiered an episode in which the students of Hillman College had an assignment where they had to write and present their own eulogy. During one eulogy, a young student, Josie, revealed that she contracted HIV/AIDS while she was a senior in high school. She received it from her boyfriend and did not know that he was infected. A Different World was able to teach viewers as much as they knew about AIDS at the time, due to the fact that in the episode, students were asking Josie questions such as, "Are you contagious?" and "Can you get this [HIV/AIDS] from kissing?" Many people were not privy to the process and infection of HIV/AIDS. It was a new disease that the general public was not aware of.
Another topical and important episode of A Different World includes, "No Means No" an episode in which Freddie Brooks went on a date with the residential hottie, Garth Parks. Garth is known for sexually abusing a series of women. Dwayne, who is a near and dear friend of Freddie's begins to warn her about Garth's predatory nature. She does not listen to Dwayne and low and behold, Dwayne was the hero of the day as he stops an unwanted sexual interaction by Freddie from Garth. Many people wrote into the show once the episode appeared and thank the cast and crew for such an important episode. One viewer wrote in and explained how she had been sexually abused by her neighbor, and that this episode of A Different World was just what she needed to speak up about her dilemma.  
Along with being a show that is so topical, A Different World has solidified it's place in popular culture. Dwayne Wayne, the resident stylish engineering major, became a staple in the sneakerhead community. Along with his sneakers, his flip up glasses generated a fashion frenzy that almost required every fan of the show to get a pair as well. Dwayne Wayne's sneaker obsession  has been documented by Complex in which they reviewed every episode of A Different World and reported what shoe he was wearing each episode, including, but not limited to, the Air Jordan IV, Air Jordan 1, Air Jordan III, Nike Force 180, and Nike Air Trainer I. One might ask how can a college student be able to buy $100+ shoes every weekend. If you are Dwayne Wayne, you will find a way.  A Different World also never lacked when it came to star people. Celebrities such as Patti La Belle, Diahann Carroll, En Vogue, Heavy D and the Boyz, Gladys Knight, Tupac, had appeared on the show and Denzel Washington even stopped by as well.
A Different World consisted of a cast that ranged from the ages of seventeen all the way up in the late sixties. A Different World represented more than just the student. Faculty and staff of all genders in age groups were seen in different professions throughout the entire television series. They were managers, and chiefs, and former Army men in the role of educators, fathers, and lovers. We were also able to see women lead in corporate America and as well in their own business endeavors.  Women who messed up early in life were seen as people who have received a second chance. They graduated, fell in love, and began families. A Different World consisted of a majority black cast, which at the time was a popular idea for television. A Different World consisted of a cast full of light skin and dark skin African-Americans. Every skintone group inside the diaspora was able to be represented and treated with love and kindness. It showed black women in respectable roles such as an art collector and doctor, and gave them more than the stereotypical attitude. They were carefree. Black women are still, in 2017 inspired by the majority woman cast. It was represented before and behind the camera as Debbie Allen made it possible for black people and young women to have a seat at the table, whether that include writing episodes or directing them. A Different World was also the reasoning for the spike in enrollment in historically black colleges and universities all across the nation. Many students were able to relate to the characters of A Different World; Whitley, Kim, Freddie, Ron, and Jalessa. They were quirky, exciting, and humble. They were the perfect representation for the generation that came after them.
A Different World is a television showed young African-Americans in a light that they were  never seen in before. People did not know about how strengths and resilience, Young Black people were not able to be taken serious. People did not believe in our genius and in our creativity. We were not respected. A Different World was the first television series to show the trials and tribulations of what it is like to be young and black in America. People began to believe in our creativity and the way in which we would move popular culture. A Different World was able to show the world the power of Black love in romances and friendships. It is because of how topical, representational, and popular that A Different World was, it continues to allow current and future generations to become inspired. A Different World allowed an entire generation to achieve and believe in themselves.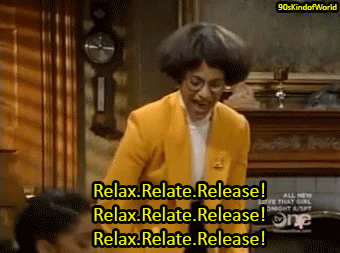 Giphy original post - 7.9.17